For many companies, embracing the cloud is an easy decision to fuel innovation and agility. The confusion lies in which cloud—public, private, or hybrid—for your variety of purposes. What about your on-premises applications, how do they fit in to your new cloud environment?
As IT ecosystems evolve, having a hybrid cloud strategy in place will help you scale on your terms to meet your changing business needs. Hybrid cloud can help you deliver consistent application performance every day for all users, even legacy applications that are running on-premises. With cloud, it's a journey that is ever-evolving across on-premises and off-premises clouds, not a one-or-the-other destination.
According to Gartner, over 75% of midsize and large organizations have adopted an approach to IT that's built on hybrid multicloud: on-premises cloud combined with more than one public cloud.
What Goes On Which Cloud?
Let's resolve some of the confusion about what should go on which cloud.
Your private cloud is for sustained applications that require a high level of consistency, security, and control, such as all your company's sensitive information. This kind of data needs to stay behind firewalls and never be exposed to external networks.
Your public cloud is for your scalable workloads. Agility is a must in today's world and being able to grow as you need to is essential. This is a great place for workloads from many utilities that are associated with tools already built into public clouds, such as AWS and Azure.
Your hybrid cloud lets you enjoy the best of both worlds. You can benefit from a highly efficient private cloud complemented by a dynamic and agile public cloud for optimized workloads.
Core to Cloud to Edge
At iTBlueprint, we believe in the value and flexibility of having a hybrid multicloud strategy. By allowing workloads to shift between public and private clouds, you're able to maximize your flexibility and avoid complete reliance on one environment. With the hybrid multicloud, you can be agile and at the same time cost conscious, while continuing to meet the needs associated with security and rapid deployment.
An emerging IT strategy is one that spans core to cloud to edge with multiple private and public clouds as well as more than one edge—with the edge ranging from IoT devices and smart tech to infrastructure devices that combine compute, storage, networking, and management software. Enterprises want to manage everything as a seamless aggregated collection of services that can be used to support any application anywhere.
It's sound complicated, but it doesn't have to be with effective hybrid multicloud management. In fact, it's as simple as A, B, C.
A is for Automate
Multiple clouds plus edge environments can create inefficiencies and poor utilization when not managed properly. You can counter that with automated hybrid cloud management that includes service aggregation. Automating your hybrid cloud management helps you reduce routine and mundane tasks that are wasting valuable resources. It can also accelerate movement and help you create breathing room for innovation.
B is for Build
Organizations that are building a hybrid multicloud environment need a storage service that can span multiple clouds and serve as a hybrid cloud integration touchpoint. NetApp ONTAP data management software can support both enterprise and cloud-native applications in a wide range of use cases, performance tiers, and SLAs. A versatile hybrid multicloud building block, ONTAP simplifies hybrid cloud management while maintaining data durability.
C is for Cultivate
There are a lot of choices when it comes to cloud technologies. It's best to cultivate relationships with partners who understand the nuances and variety of use cases when it comes to all types of clouds. iTBlueprint is a cloud leader specializing in ensuring you get the most of out of your cloud investment, whether it's private, public or hybrid.
We only partner with manufacturers and developers who have proven themselves many times over. As a proud NetApp partner, we invest our own resources in ensuring our team is experienced, certified, and well-equipped to deliver solutions that meet, and often exceed, our clients' expectations.
With industry-leading technologies, like NetApp ONTAP, we help you balance time, cost, and risk with proven solutions for enterprise reliability, performance, and value. NetApp Cloud Volumes ONTAP has a track record that other cloud storage capabilities can't match, including a rich feature set to support file services, databases, DevOps, or any other enterprise workload.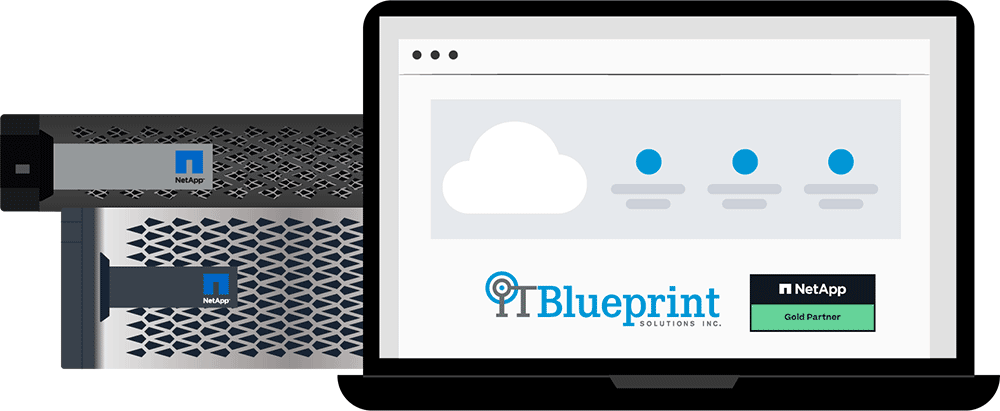 iTBlueprint helps organizations of all sizes standardize and optimize their storage for enterprise and cloud-native applications with the most compelling mix of efficiency, reliability, and value. Whether you're using AWS, Azure, or Google Cloud with your company's private cloud, NetApp solutions work with them all and iTBlueprint can help easily navigate your unique hybrid multicloud journey.
Reach out to one of our experienced engineers to schedule a complimentary Storage Assessment today.